Help Me Choose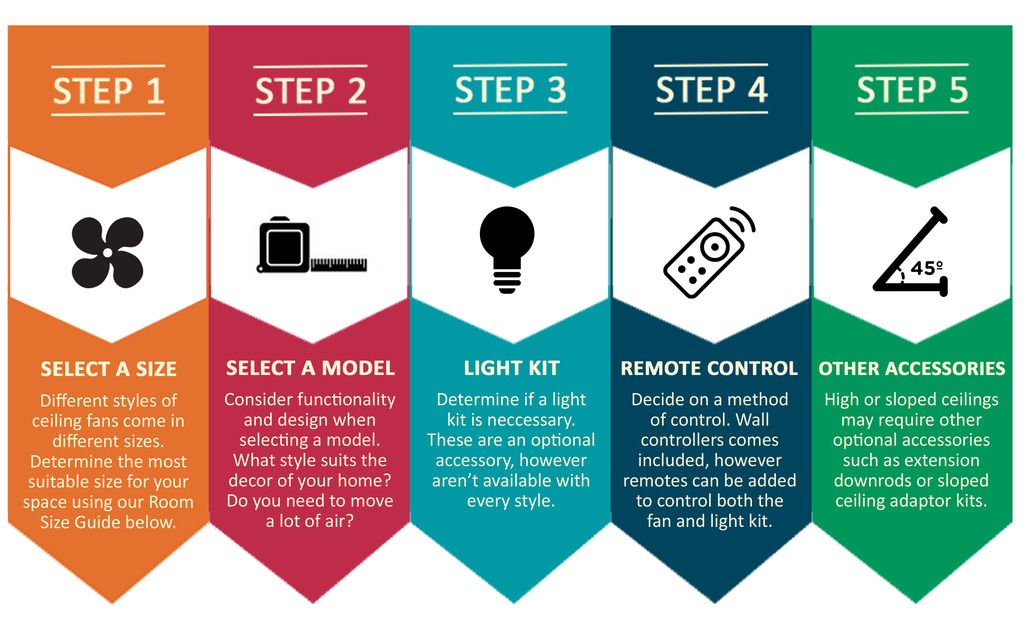 Step 1 – Select a Size: Use our Room Size Guide to determine the most suitable sized ceiling fan for your space:
A. Room Size
Room size refers to the total square metres of a room (length x width).
B. Fan Size
This is the diameter (sweep) of the fan from blade tip to blade tip. For fans with a unique design or blade shape, the sweep indicates the total diameter of the blade(s) when spinning.
C. Ceiling Height
The size guide is based on rooms with a 2.7 metre ceiling height. For lower ceilings such as 2.4 metres,smaller sized fans may be more desirable and better proportioned to the room.
D. Distance
The distance between the bottom of the fan blades and the floor should be a minimum of 2.1 metres.
Step 2 – Select a Model: Timber bladed fans are safer and quieter for use in a bedroom. Metal bladed fans are perfect for alfresco areas as they push a lot more air than timber bladed fans do. Also take into consideration the style and decor of your home, for example, black fans look great when paired with black kitchen feature tiles.
Step 3 – Light Kit: If you're building a new home, you may elect to have a light on your ceiling fan instead of installing downlights. Not all ceiling fans will come with the option of adding an accessory light kit, so make sure to consider this when choosing a model.
Step 4 – Remote Control: Decide whether you'd like to operate your ceiling fan using a wall controller or a remote control. A wall controller has a 3 speed function however will need a separate light switch if choosing to have a light on your ceiling fan. A remote control includes both speed and light functions. Our universal remote control is also adaptable to every kind of ceiling fan, so using a remote control is simply a matter of personal preference.
Step 5 – Other Accessories: Ceilings over 2.7 metres high may require the use of an optional accessory downrod, to lower the hanging height of the ceiling fan and provide optimal airflow. Most fans can also be installed on sloped ceilings of up to 28 degrees. Sloped ceilings greater than 28 degrees will require the use of an accessory 45 degree angle kit.