Schoolhouse Ceiling Fan Gloss White 52″
Soon after Thomas Edison developed the incandescent light bulb in 1879, the "Schoolhouse" glass shade was adapted as the almost universal diffuser for hanging lights. This shape of glass was found in classrooms, offices, hospitals and anywhere a diffused electric light source was needed. The Schoolhouse Ceiling Fan Gloss White 52″ was developed to capture some of this nostalgia.
The glass on the Schoolhouse Ceiling Fan is fully incorporated onto the body, unifying the form rather than hanging as a light kit from the bottom like a conventional fan. The Schoolhouse is simple yet traditional, perfect for your historical and period arts home.
The Period Arts Fan Company (an assosciated product line to The Modern Fan Company) designs and manufactures ceiling fans that expertly combine modern technology with original interpretations of late-nineteenth century and early-twentieth century architectural, interior and product design movements.
Features Include
3 year on-site warranty
2 x E27 lamp holder (globes not included)
Reversible Summer/Winter switch on motor housing
3 speed wall controller
Balanced, white painted plywood blades
Remote control adaptable
Sloped ceiling adaptable (up to 33 degrees)
Airflow: 165.7 m3/min
Maximum Power Usage: 73.0 watts
Dimensions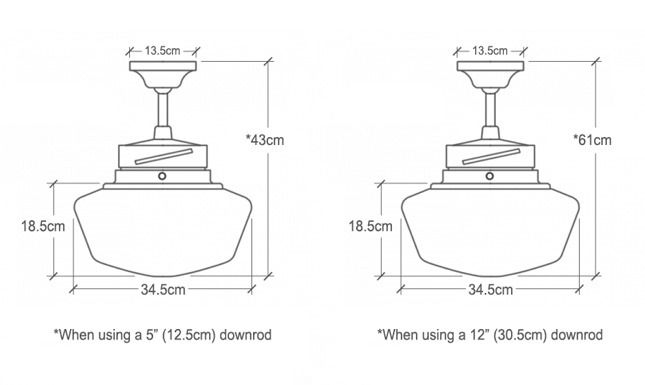 Keep up-to-date on the latest in ceiling fan innovation and like us on Facebook today!