Velo Ceiling Fan Gloss White 50″ by The Modern Fan Company
The Velo Ceiling Fan Gloss White boasts a highly aerodynamic look with three aero-foil inspired blades. The moulded polymer blades are seamlessly integrated into its curved, Die Cast Aluminium cylindrical motor housing. The Velo is the perfect addition to any modern space, particularly outdoor alfresco areas.
The Modern Fan Company was founded by Ron Rezek in 1997 to produce ceiling fans that provide superior air circulation and comfort for contemporary-minded homeowners and design professionals. The Modern Fan Company originated the contemporary ceiling fan genre, and as a result remains the only company of its kind.
Features
Balanced moulded polymer blades
Reversible Summer/Winter switch located on the motor housing
3 speed wall control (low, medium and high)
Light kit adaptable (1 x E27 light fitting)
Sloped ceiling adaptable up to 33 degrees
50″ (127cm) diameter blade sweep
Airflow – 188.3 m3/min
Maximum Power Usage – 78.0 watts
Blade balancing kit
What are Moulded Polymer Blades?
Moulded Polymer refers to the process of injecting melted plastic into a mould, where it cools and hardens to the shape of the mould. Plastic is not metallic, therefore it will not rust when exposed to outdoor elements.
Available Colours
Dimensions: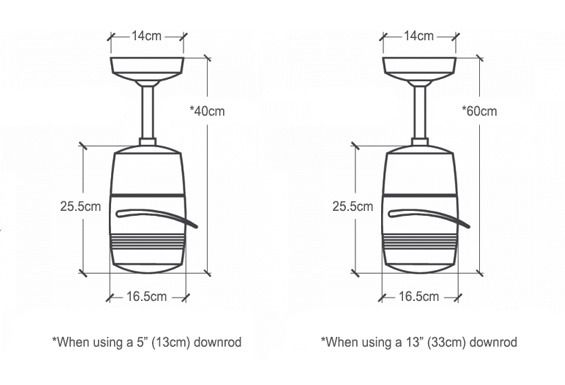 Keep up-to-date on the latest in ceiling fan innovation and Like us on Facebook today!